The week's book recommendation is…drum roll please..
HUSH, HUSH by Becca Fitzpatrick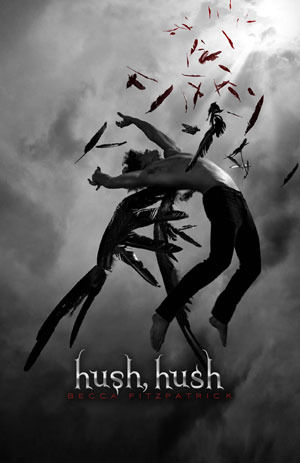 A SACRED OATH
A FALLEN ANGEL
A FORBIDDEN LOVE

Romance was not part of Nora Grey's plan. She's never been particularly attracted to the boys at her school, no matter how hard her best friend, Vee, pushes them at her. Not until Patch comes along. With his easy smile and eyes that seem to see inside her, Patch draws Nora to him against her better judgment.

But after a series of terrifying encounters, Nora's not sure whom to trust. Patch seems to be everywhere she is and seems to know more about her than her closest friends. She can't decide whether she should fall into his arms or run and hide. And when she tries to seek some answers, she finds herself near a truth that is way more unsettling than anything Patch makes her feel.

For she is right in the middle of an ancient battle between the immortal and those that have fallen – and, when it comes to choosing sides, the wrong choice will cost Nora her life
I've seen A LOT of bad reviews for this book and to be honest, I don't understand why? I love when a book can keep me guessing. This book kept me turning the pages for so many reasons. I had to know what would happen next, whether it was for sizzling scenes with Patch & Nora or downright hilarious moments with Nora & Vee or even the strange things happening around Nora. I absolutely, positively devoured every page! Well as you can see, I'm Hush, Hush's #1 fan!
You can also find my "swoon worthy saturday" post right here